"Either you have money or you don't – what use is there to talk about it?"
High school student Y.B., Jerusalem, before the course
"I finally get it – now I'm taking responsiblity for my life!"
High school student Y.B., Jerusalem, after the course
Our first young adult program was launched in 2008, with a course curriculum designed to educate and equip young adults with vital skills before they established families fo their own.
Since then, our education department has expanded, first to high school and then junior high school, reaching out to younger ages to actively mold healthy attitudes to money: spending money and money management. Course topics include:
Needs, Wants & Priorities

Spending, Loans & Credit

Budgeting & Planning; Employment & Entrepeneurship

Savings & Investment

Charity & Integrity

Money Mangement through the Lens of Jewish Law and Thought
Mesila offers a wide range of programs, designed to teach youth of various ages the importance, as well as the basics of, financial stability and planning.
Click on one of the available programs for a closer look and more information: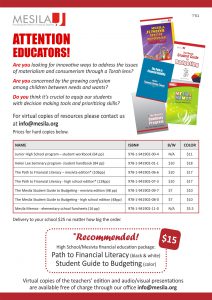 This program is supported by the Jewish Women's Fund of Atlanta and the Greater Miami Jewish Federation.