How to Establish a Jewish Home:
90 Minute Foundation to Financial Stability
 Mesila Lakewood held a successful seminar event for couples on the evening of February 22, 2015, at the Villas Clubhouse. Approximately 70 people filled the room to capacity.
The evening was geared for all couples, from newlyweds to those marrying off children, and everyone in between. The speakers, experienced Mesila counselors, covered the basics of how to establish a Jewish home based on sound principles of financial stability.
Rabbi Boruch Y. Schreiber spoke about the hashkafa and
philosophy of Mesila, and answered the general question of "why" it is important to create and live with a budget.
Rabbi Nechemia Panski addressed the audience with practical instructions on "how" to design and maintain a proper and effective budget in the home. He outlined the nuts and bolts of the whole process.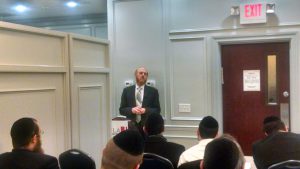 "It was fantastic!" said one participant. "The presentation was very interesting and very practical – it left me with exactly what I needed to know."
Participants left buoyed by a sense of encouragement, and equipped with much information and practical tips to apply on their own.