Over 70 young men participated in Mesila's evening for chatanim and young newlywed men on Monday, May 25, 2015, on the topic: Proper Administration and Wise Economics.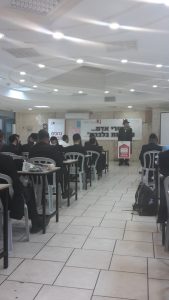 The event, which took place in the hall of the Kedushas Hatorah Talmud Torah in Jerusalem,  was specially planned in answer to a letter from a young man who participated in a similar event last year, in which he stated,
 . . . Before (my) wedding, Mesila advertised a seminar about prudent economics, meant for chasanim . . . In merit of this, I feel that I approached the entire topic carefully and thoughtfully, and this saved me from drowning . . .you must carry on this (project) at least six times a year in all of the major cities . . . These young men don't know anything (about the topic) and very easily stumble . . . I value you and know that you are the address . . .
Speakers, Hagaon Hagadol, Harav Zvi Braverman, shlita, Av Beis Din of Beitar Ilit, and Rabbi Eliezer Carmel of Mesila  spoke of the importance of proper financial planning as a base for creating the strong foundations upon which homes and family life are built, emphasizing the Torah roots of these concepts.
Rabbi Yosef Backenrot, coordinator of Mesila's chatanim program, provided information and ideas, imparting concepts and knowledge for practical use.
Partipants left with a feeling of enrichment and expressed a desire for continued courses and lectures, both for themselves and to benefit their friends and aquaintences who were unable to attend this event.