Mesila ran an intensive , family counselor training course at the premises of Kivun in Jerusalem.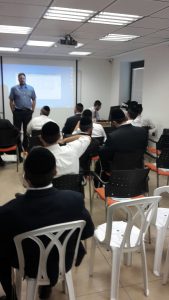 Without advertising, Mesila managed to fill the lecture room with over 50 participants-men and women. Candidates underwent an interview process and were required to have some background in coaching and/or financial counseling.    
The 6 meeting course was delivered with aplomb by R. Yisrael Guttman of Mesila's professional development team. Knowledge, technique and plenty of hands on simulation made for a lively and interactive educational experience. The course was designed so that the counselors-in training were  counseling 3 families simultaneously: their own family, a course participant's family, and another family which they "counseled" through homework assignments.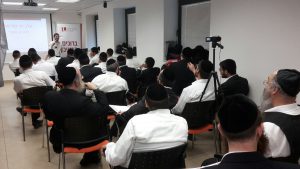 Candidates who pass the exam and prove their ability during the post-course internship will be integrated into Mesila's expanded professional family counselor corps.
 We would like to thank our partner Kivun- and their partners in the Finance Ministry and the Municipality of Jerusalem- for providing us with wonderful premises, and for their  technical and professional support which helped make this training course a resounding success.
It is our hope that this will be the first of many joint ventures  to benefit the community by empowering towards financial independence.