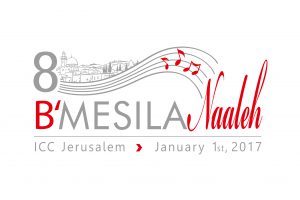 To order tickets to the dinner, please click here.
We are now accepting greetings and ads for the B'Mesila Naaleh journal. To place your order, please click on one of the following:
With warm friendship and deep appreciation, it is our pleasure to invite our beloved Mesila family to our eighth annual dinner
B'MESILA NAALEH 8
Please join us – supporters, friends, and staff of the worldwide Mesila movement – as we sit together at elegantly set tables and enjoy a fascinating program.
The Dinner will take place, iy"H, on Sunday, 3 Tevet 5777,
(January 1, 2017)
at Binyanei Haumah ICC – Jerusalem
Cocktails and reception at 7:00 p.m.
Looking forward to welcoming you personally!
With friendship and appreciation,
Mesila
Shmuli Margulies, Chairman
Program:
"Welcome!" – Arrival, audio-visual presentation
Keynote speaker – Rabbi Yisrael Meir Lau, shlita, Chief Rabbi of Tel Aviv-Yaffo
"Mesila International" – Financial literacy education around the world
"Personal testimonies" – By people who got back on track
Song and Chazzanut repertoire, conducted by Yoeli Dickman, Chazzan Avreimi Roth, the "Malchut" choir, and the "Kol Ha'ne'arim" children's choir.
Viewing of a unique video designed to creatively teach students about halachic money issues.
Fascinating screen presentations throughout the evening
Sumptuous dinner, under the supervision of Badatz Eidah Hachareidis
Separate seating
Price: Single ticket: $250   Couple: $360
To order tickets:
Mrs. Bassya Weiss:
 Office:  02-500-0475 Ext. 303      Cell: 054-844-1963      e-mail: [email protected]
Reservations by Dec. 25, 2016  
The evening is dedicated in memory of the eminent woman, ardent supporter of Mesila since its inception, Mrs. Martha (Rivka Sara) Margulies, a"h, eishes chaver to pillar of  tzedakah and chessed R' Ephraim Zalman Margulies,  passed away on 26 Adar II 5776.