Gain the tools and insight you need to
TAKE CONTROL OF YOUR FINANCES!
With R' MOISHE KOHN
Mesila Coach and Coach Supervisor
The Mesila Home Finance 6-part Workshop will start again in Jerusalem 
6 meetings Sundays 8:30pm, starting after Pesach
Location: Sha'arei Ha'ir (near the Tachana merkazit)
For men and women – separate seating with a mechitza/refreshments 
A ONE-TIME OPPORTUNITY! SPACE IS LIMITED
Its' not too late to sign up!
*This workshop is almost completely subsidized by Afikey and Mesila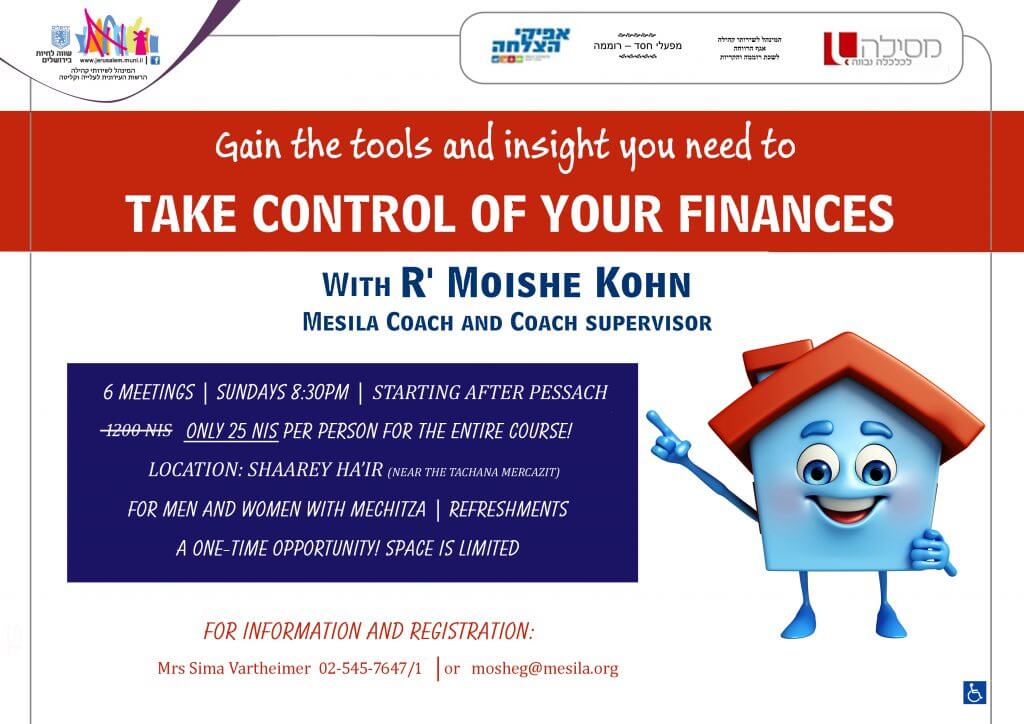 Getting a clear financial picture.
Monthly Income and expenses.

Periodical income and expenses.

Overall debt situation.

Identifying challenges.

Creating a financial vision.

A powerful, motivating description of your desired financial reality.

Short term, medium term, and long term goals.

The price of your vision.
Identifying tracks for financial change.
Income enhancement

Streamlining expenses

Thinking out if the box

Emergency Budget

Lifestyle change
Building a short-term and long-term budget.
Actual implementation of monthly budgeting.

Tracking your budget and tweaking when necessary.

Cash flow challenges

Paying off debt.
Of course this is all if time allows. 
–      12 steps to financial stability
–      Practical tips
–      How to form a financial management plan
–      Dealing with debt
–      Becoming a super-saver