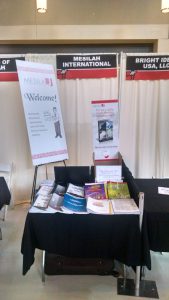 Mesila was present at the 59th National Leadership Convention of principals, teachers, and lay leaders of the National Society for Hebrew Day Schools/Torah Umesorah, May 2015, in Conneticut..
Rabbi Shulem Abramczyk, head of Mesila Lakewood  and himself a noted educator, promoted our unique, educational financial literacy curriculum to the attending 2,000 professionals and lay leaders, representing approximately 700 schools and over 200,000 students, Educators expressed the dire need for  financial literacy and responsibility  amongst their students and were especially enthused by the thorough yet engaging and creative materials.  Many  registered to receive additional information towards  implementing the course in their respective schools.
You can learn more about Mesila's various educational programs by clicking here.
Click on any of the workbooks below to see samples of the material presented at the convention.